WHERE TO TAKE THE BEST PHOTOS ON IBIZA THIS SUMMER   
It's no surprise that a holiday on Ibiza is something we all dream of. The long list of celebrities that flock to the island during the hottest months of the year to enjoy its crystalline waters and amazing atmosphere, have turned this island into an exclusive and aspirational destination. And how do we know? Because year after year social media are filled with photographs taken on the island.
If taking photos is one of the ways you enjoy your holiday experience to the full, check out our suggestions for the best places to take some truly epic photos this summer:
Sa Figuera Borda Cave
Rated by many as one of the best beaches on the island, Sa Figuera Borda boasts a magnificent cave that is a great setting for a photo that is 100% Ibiza. The colours and light reflected on the sea contrast with the cave in the foreground, guaranteeing you unforgettable images that will remain fixed forever in your mind as well as your camera.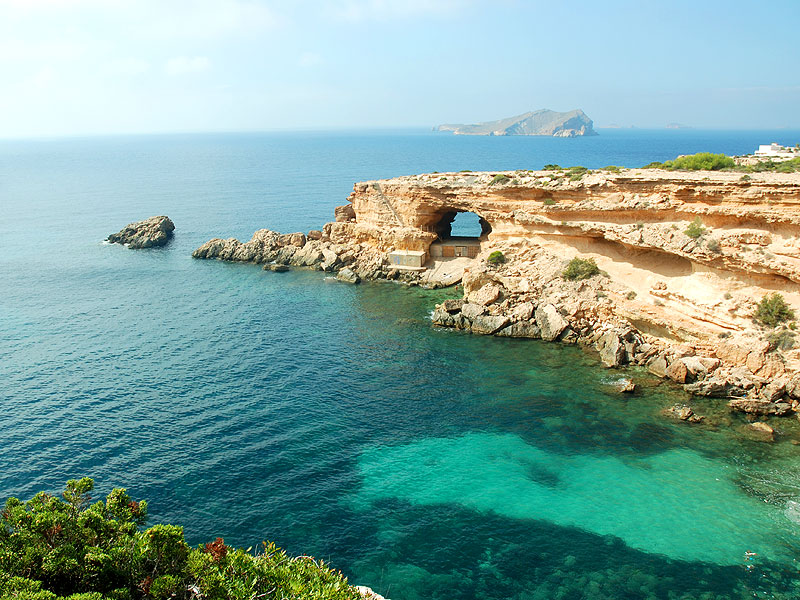 ibiza5sentidos.es
Dalt Vila
A walk around Dalt Vila is an absolute must for anyone travelling to Ibiza. Listed as a World Heritage Site, Ibiza's Old Town is the perfect place for discovering the island's culture and photographing some of the island's most authentic architectural treasures. Our THB Los Molinos Hotel is the perfect base for exploring this quarter whilst enjoying a pleasant stroll.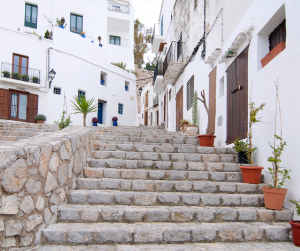 Sa Talaia
If you're a fan of panoramic views, then don't miss the chance to discover Sa Talaia, the highest point on Ibiza. From there, you can admire views of the entire island and also catch a glimpse of Formentera on a really clear day. Rising up some 475 metres, it can be accessed by car or on foot by following the signposted path.

Cala Xarraca swing
Despite remaining off the tourist track for many years, this cove nestling in the north of Ibiza has now become one of the island's most photogenic and instagrammable locations.
Bathed by crystalline waters and set in delightful surroundings, Cala Xarraca shares many similarities with other nearby coves. However, what sets it apart from the rest is an amazing rope swing, which has become a firm favourite for tourists who love posing for one of the best photo opportunities on the entire island!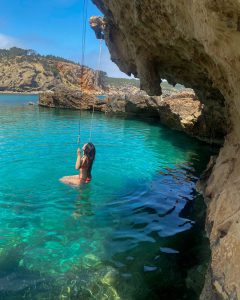 @supermaria4
Es Vedrà
Ibiza is famous for its stunning sunsets and Es Vedrà is definitely one of the best places to photograph them. Known as "the magical islet" it is one of the island's most emblematic landmarks and taking a photo as you admire an unforgettable sunset is something every visitor should do.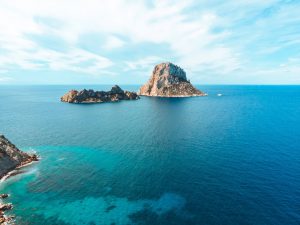 Beach club
Photos of Ibiza's nightlife and partying are another must-have for visitors. For many, enjoying the nightlife is one of the highlights of their visit, and a photo is a great way of creating lasting memories. Our THB Naeco Ibiza and THB Ocean Beach hotels offer you the chance to visit O Beach Club, one of the best spots to party the night away on Ibiza.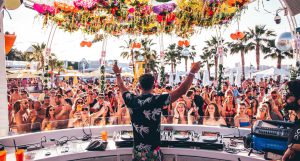 Holiday photos and videos are definitely some of the best souvenirs you can take home with you. There's nothing like being able to relive great times by looking through your photo album. It's something we enjoy doing here at THB hotels, which is why we'd like to invite you to add our #THBhotels hashtag and share with us your most special and fun  holiday moments.
This post is also available in: Deutsch Español Nederlands Français Italiano