EIN TAG AUF IBIZA
Planen Sie einen Ausflug auf die Pitiuseninsel und möchten Sie dabei nichts versäumen?
Die Baleareninseln sind ein herrliches Reiseziel und Ibiza ist wie ein Stück vom Himmel. Die Insel bietet herrliche Strände, bezaubernde Gassen in der Altstadt, bestes traditionelles Essen und wunderschöne Sonnenuntergänge, sodass man sich einfach in diese Insel verlieben muss.
Wenn Sie Ibiza maximal auskosten möchten, sollten Sie weiterlesen, denn hier zeigen wir Ihnen, wie man hier einen Tag am besten verbringen kann.
Sie sind im 4-Sterne-Hotel THB Los Molinos**** von aufgewacht. Nach einem ausgezeichneten Buffetfrühstück mit gutem Kaffee beginnen Sie Ihren Spaziergang bis an eines der Tore der Stadtmauer von "Dalt Vila", die nur 10 Minuten entfernt liegt.  Es gibt keinen besseren Tagesbeginn auf Ibiza als ein gemütlicher Spaziergang durch die mittelalterlichen Gassen der Stadt, die von der Unesco zum Weltkulturgut erklärt wurde. Erkundigen Sie Ihre malerischen Winkel und gehen Sie bis zur Santa María Kathedrale, von der aus man einen Ausblick auf die ganze Stadt hat.  Nutzen Sie die Gelegenheit, um die typischen Süßwaren zu probieren, die die Augustinernonnen zubereiten. Darunter gehören "Orelletes", "Rubiols" und Kekse von Sant Agustí zu den traditionellen Erzeugnissen.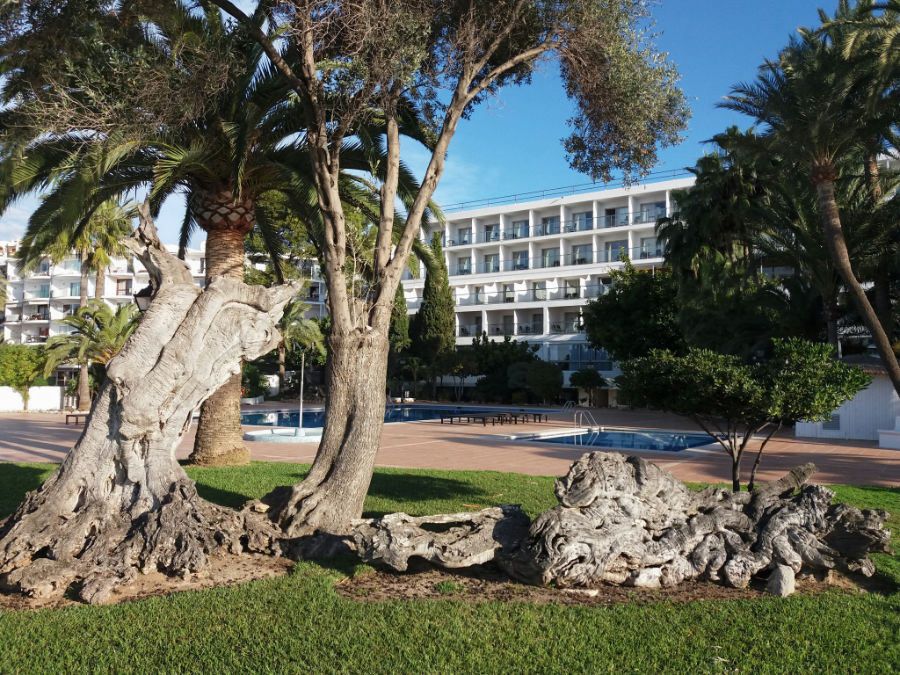 Unweit davon befindet sich das Museum für zeitgenössische Kunst Ibizas (Museu d'Art Contemporani d'Eivissa, MACE). Es ist Spaniens drittältestes öffentliches Museum zeitgenössischer Kunst und beeindruckt mit seinem Avantgardestil. Zudem ist es Treffpunkt zahlreicher internationaler Künstler und moderner Intellektueller.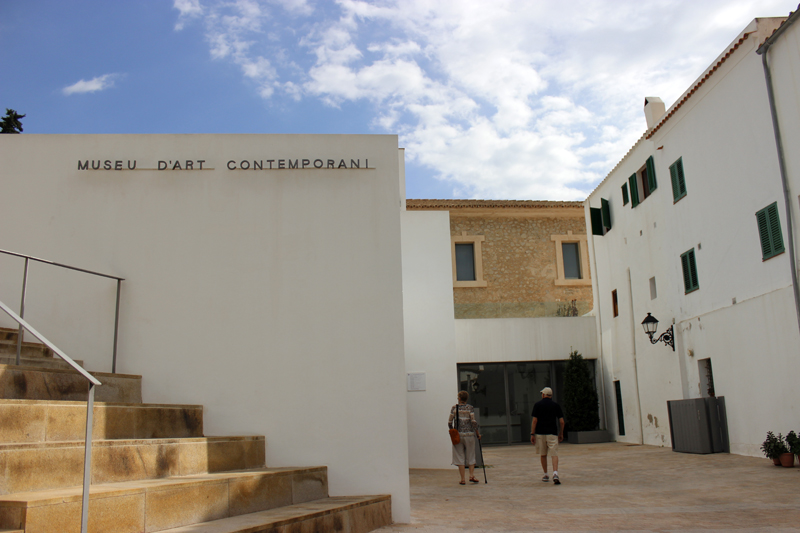 Museu d'Art Contemporani d'Eivissa, Foto by Ibiza Islas

Another must-see is The Elephant Gallery, one of the most extraordinary and beautiful shops on the island. Located in Santa Gertrudis, it is the ideal place to find the best fashion, full of unique clothing and all kinds of accessories that combine a number of different styles, including chic and hippie. If you want to recover your strength and relax, you can join one of the yoga classes that are held in the courtyard of the shop. Check out the most bohemian shops in Ibiza with this blog post
Ein weiterer Pflichtbesuch ist La Galería Elefante, eines der außerordentlichsten und schönsten Geschäfte der Insel. Es liegt in Santa Gertrudis und ist der ideale Ort, um schöne Dekorationen, einmalige Kleidung und alle Arten an Accessoires zu finden, bei denen trivialer Stil mit schicken Sachen und Hippiekleidung vermischt ist. Wenn Sie neue Kraft schöpfen oder sich entspannen möchten, können Sie an einem der Yogakurse teilnehmen, die im Innenhof des Geschäfts angeboten werden. Im folgenden Post können Sie Ibizas Geschäfte im Bohemienstil entdecken.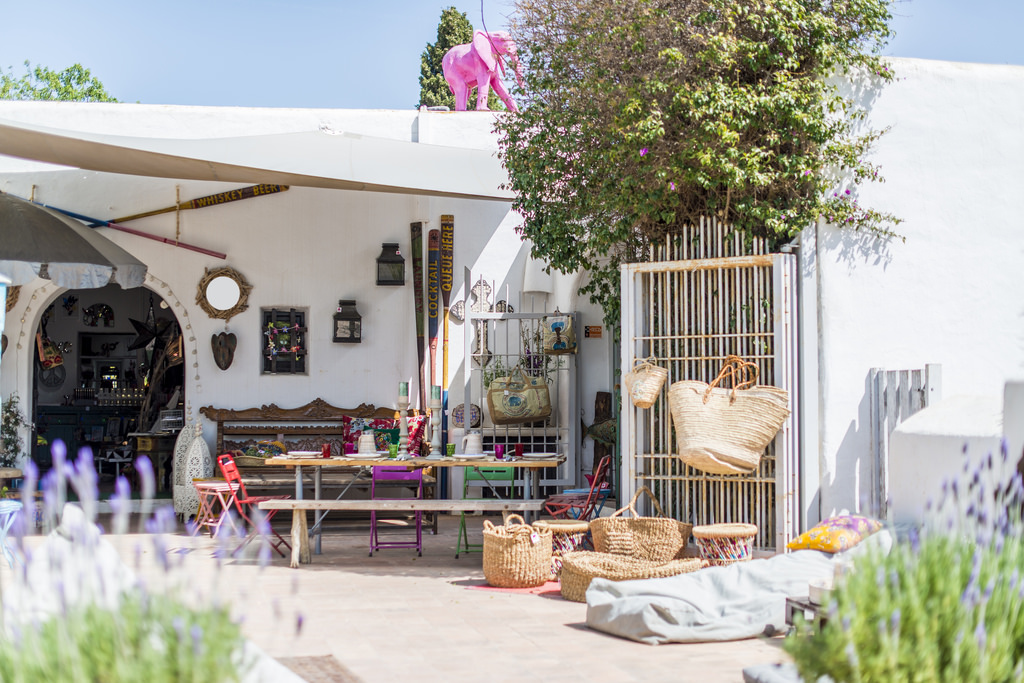 Galería Elefante, foto by White Ibiza
Sie dürfen auf keinen Fall den Besuch des berühmtesten Hippiemarkts auf Ibiza versäumen. Der Las Dalias Markt gehört zu den wichtigsten Touristenattraktionen auf der Insel. Er ist für sein festliches und exotisches Ambiente, wie auch für seine besonders authentischen Stände bekannt. Die meisten davon gehören Kunsthandwerkern und Designern, die die zum Verkauf angebotenen Artikel selbst herstellen.  Zwischen Theken, die alle Arten an Säften und natürlichen Cocktails anbieten, finden Sie hier außerdem viele Versionen Ibizas typischer weißer Kleidung, der sogenannten Adlib Mode.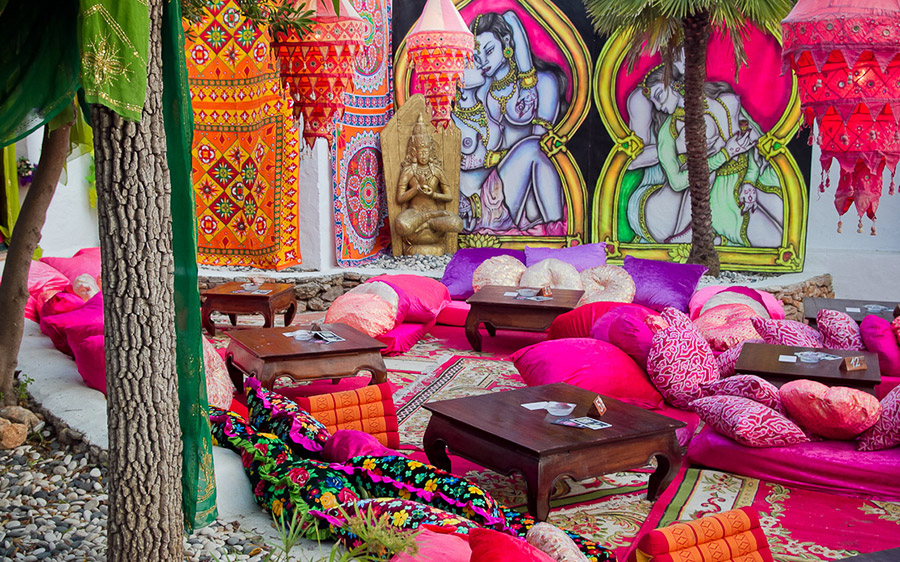 Las Dalias, foto by Ses Pitreras
Bei Ihrer Rückkehr erwartet Sie im Restaurant eine Speisekarte mit köstlichen Gerichten, die Sie probieren sollten. Sie können mit Tartar aus Jakobsmuscheln mit exotischen Früchten, einer Fleischterrine oder knusprigen Räucherlachsröllchen beginnen. Egal ob Sie Pasta, Fisch oder Fleisch mögen, bei uns finden Sie das ideale Gericht wie z. B. Ravioli mit Steinpilzen und Trüffeln, Krake mit Kartoffelschaum und Vera-Paprika, Lammspieß und weitere köstliche Speisen zur Auswahl.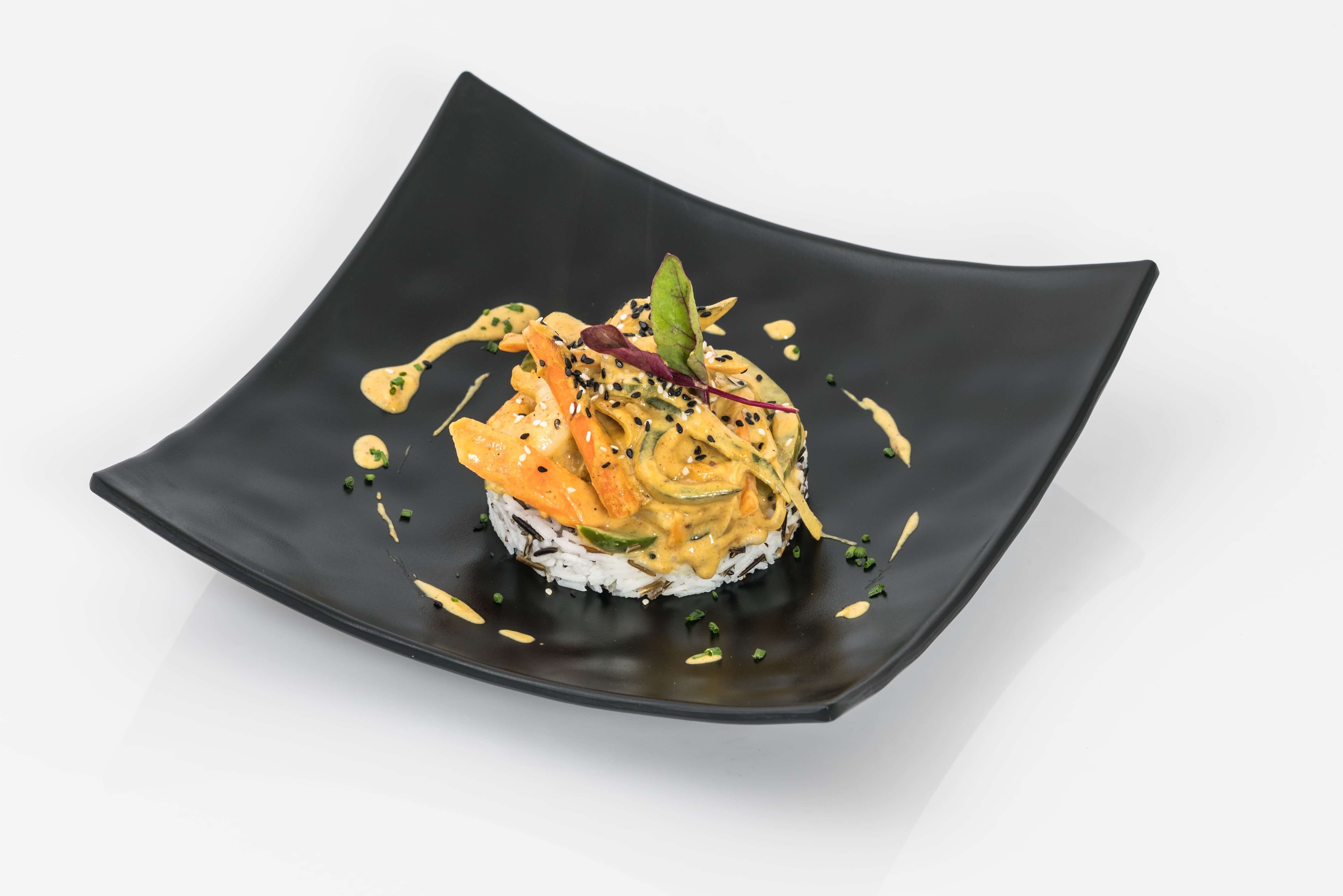 Curry mit Reis, THB Los Molinos**** Restaurant