SUMMER OUTINGS ON MALLORCA: DISCOVER THE BEST BEACHES
If you're planning to spend your summer holiday on the beautiful island of Mallorca, you'll be welcomed by paradisiacal settings that are definitely not to be missed.
'Sa Roqueta' is known around the world for its stunning coastal landscapes, crystalline waters and welcoming coves, making it the perfect destination for sun and sand worshippers.
When you arrive on Mallorca, you're certain to be amazed by its gastronomy, the towns and villages nestling in the Serra de Tramuntana Mountains or the views of the sun setting behind the lighthouses. But undoubtedly, the island's greatest attractions are its beaches and coves. From vast tranquil bays to picturesque hidden coves, the island has something to suit all tastes and preferences. In this post, we present a carefully chosen selection of the best beaches on Mallorca, to help you make the most of your summer holiday experience.

Es Trenc
An authentic jewel nestling in the south of the island, Es Trenc beach is one of the best known and most highly rated on Mallorca. Unlike other tourist beaches, it still has that wild, unspoilt air that makes it the perfect refuge for those anxious to flee the crowds and enjoy some peace and quiet. The beach is backed by dunes and protected sands, making it a well-conserved and protected natural setting. If you'd like to discover Es Trenc with THB hotels, you can stay at the THB Sur Mallorca  in Colonia de Sant Jordi. The hotel is just 10 minutes away from Es Trenc by car, or for the more adventurous, an hour's walk away.
Cala Llombards
Cala Llombards is a delightful small cove located on Mallorca's east coast, just outside the town of Santanyí. Cala Llombards is noted for its shallow waters, making it the ideal choice for families and those that enjoy swimming in calm waters. The little ones will be safe as they have fun paddling in the cove's shallow waters. What's more, the rocks that line the cove are ideal for snorkelling and are a great opportunity to discover the local marine life.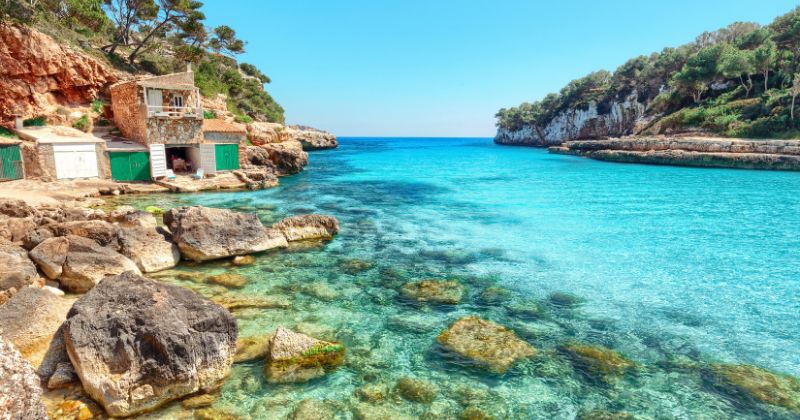 Cala Agulla
Nestling on Mallorca's picturesque east coast, Cala Agulla is an authentic seaside paradise guaranteed to surprise and delight all visitors. The golden sands bathed by turquoise waters make this cove a haven of calm tranquillity. Backed by steep cliffs and pinewoods, it boasts a truly spectacular natural setting. Nature lovers will be thrilled to explore the twisting paths that follow the coastline, whilst scuba diving fans will have the chance to discover an underwater world brimming with life and colour. Whether you chose the THB Guya Playa, THB Cala Lliteras or THB Dos Playas, you'll find the perfect base for enjoying an action-packed day in this cove before resting in your room or by the hotel pool.
Playa de Muro
Situated on the northeast coast and almost six kilometres long, Playa de Muro is Mallorca's largest beach. With its fine sands bathed by turquoise waters, this beach affords magnificent views of Alcudia bay and the s'Albufera Nature Park. It is a great choice for everyone travelling with family members, especially children, thanks to its easy access, restaurants, activities and shallow waters: bathers have to walk a considerable distance before the water starts to get deeper. Not only visitors admire the outstanding features of this beach: it has also received official recognition and a Blue Flag due to its quality standards and safety. What's more, a recent study by Rightboat named Playa de Muro the world's best beach, based on the results of more than 300,000 surveys.

Cala Millor
On Mallorca's east coast lies Cala Millor, a magnificent white sandy beach. Its crystal-clear waters and gently shelving sands make it the ideal spot for swimming and sunbathing. The facilities include a wide range of shops, bars and restaurants, offering all the services you could need for a fabulous day on the beach.
Mallorca boasts a large number of superb beaches, each with their own particular charm and characteristics. Whether you're looking for a quiet and relaxing beach, or one with lots of activities and services, Mallorca has something to suit all tastes. So don't give it another thought: add some of these beaches to your list of summer outings and make the most of the sun, sand and sea during your holiday. Have a great trip!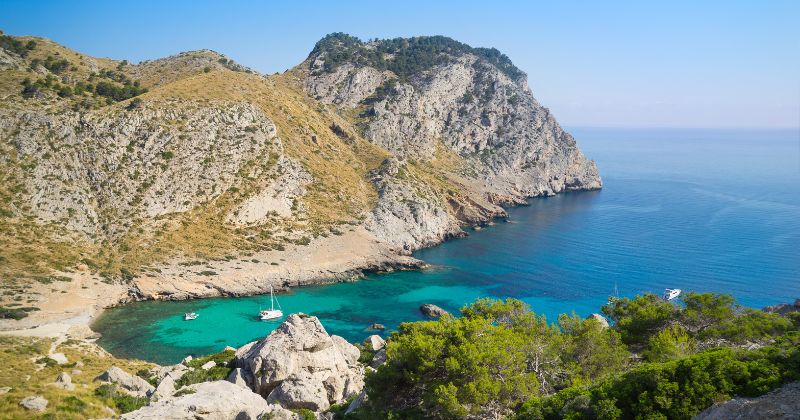 This post is also available in: Deutsch Español Nederlands Français Italiano