HOLY WEEK TRADITIONS AND GASTRONOMY
Holy Week in Spain is a time of deep religious sentiment when Christians express their sense of devotion. However, traditions vary depending on the autonomous community, ranging from processions that recreate the Passion in Andalusia to the tamborrada or beating of the drums in Hellín (Castilla La Mancha).
Read on to discover the most fascinating and awe-inspiring Holy Week traditions in our destinations: the Balearic Islands and Lanzarote.
HOLY WEEK IN THE BALEARIC ISLANDS
Easter in the Balearic Islands is a time of processions when hooded penitents known as "Nazarenes" or, as the islanders call them caperutxes, walk solemnly along the streets. Definitely not to be missed are the Holy Thursday and "Christ of the Blood" processions in Palma. It is also well worth travelling to Pollença (on the island of Majorca) to watch the "Descent from the Cross" or Davallament which takes place on Good Friday.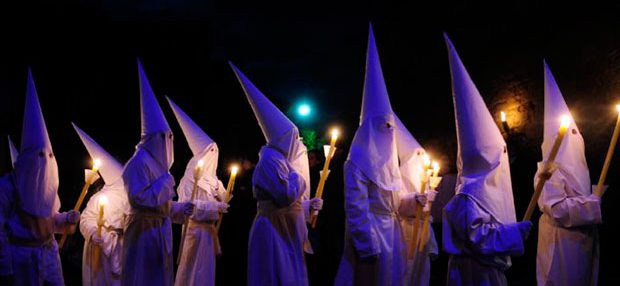 Caperutxes, photo by soyrural.es
Gastronomy is particularly important during these festivities. Meat is forbidden on Fridays during Lent, and is replaced with delicious and hearty cod and vegetable dishes. This period of fasting ends on Easter Sunday, and is celebrated with the famous Frits de Pascua – pork or lamb stir-fried with blood, potatoes, peas, pepper and fennel.
Other delicacies include the traditional panades (round pies filled with meat, peas and sobrasada sausage); cocarrois (semi-circular pasties filled with vegetables, raisins and pine nuts). Popular sweets and pastries at this time of year include crespells (flower, heart and star shaped pastries dipped in chocolate and sprinkled with icing sugar) and robiols (sweet semi-circular pastries filled with jam, cottage cheese or threaded pumpkin jam). However, as in practically all cultures, each family has its own particular traditions: some prepare vegan panades or fill their robiols with chocolate.

Panades and Cocarrois, photo by fornsanagustin.com
HOLY WEEK ON LANZAROTE
Religious festivities are celebrated in various towns and villages around the island, including processions, religious services and popular celebrations.
Each year, the town of Arrecife marks the official start to the Holy Week celebrations with the "The Lord on the Donkey" procession. After Palm Sunday mass in the Church of San Ginés, the figure of Jesus mounted on a donkey is carried by churchgoers around the streets to the sounds of the chants of the faithful.
The celebrations continue on Holy Thursday with the Stations of the Cross, and on Good Friday with the processions of the Holy Burial and Solitude.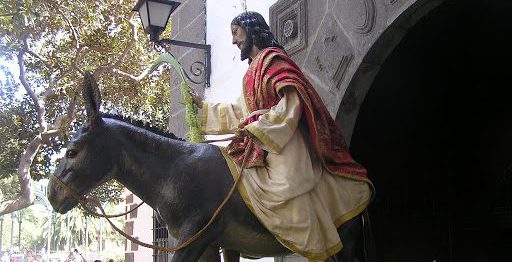 "The Lord on the Donkey" procession, photo by fotosdegrancanaria.com
The Canary Islands also have their own traditional Easter recipes. They are mainly fish-based dishes served with other seafood such as tope shark, calamari, octopus, European flying squid, cuttlefish and roe. Below are just a few of the dishes traditionally prepared in the Canary Islands during Lent:
Sancocho stew made with Atlantic wreckfish or any other type of saltwater fish, served with parboiled and stewed potatoes or the classic wrinkly potatoes, roasted gofio maize and mojo sauce.
Tollos en salsa, or strips of salted sun-dried tope shark in sauce. They can be prepared in a number of ways: some prefer to eat them dried, whilst others choose to serve them in sauce, as in this case.
Fried octopus served with wrinkly potatoes and green mojo sauce – a simple dish that accompanies the octopus and one of the islands' classic culinary delights: mojo sauce and potatoes.
The famous torrijas or French toasts – sliced bread soaked in milk, syrup or wine, dipped in egg and fried in oil.
Crepes made with Canary island bananas or sweet potato.
Muffins made with roasted sweet potato, milk, salt, sugar, honey, yeast and mild olive oil.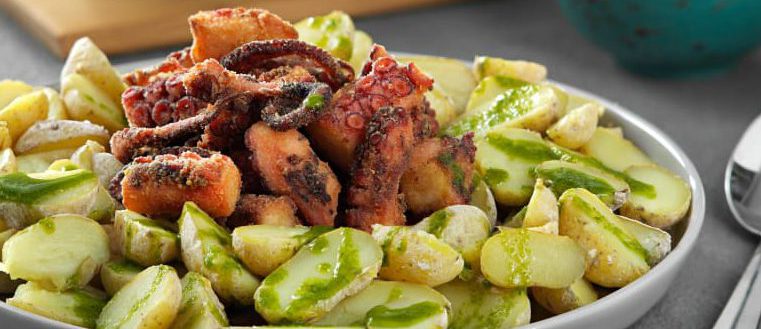 Fried octopus served with wrinkly potatoes and green mojo sauce, photo by cookidoo.es
Although any time of year is perfect for enjoying everything the Balearic and Canary islands have to offer, a trip at Eastertime can be a truly delicious gastronomic experience. If this post has whet your appetite and you're planning your next holiday, why not stay at one of our hotels on Majorca, Ibiza or Lanzarote?
YOU MAY ALSO BE INTERESTED IN: DISCOVER LANZAROTE'S WINE ROUTES, A DAY ON IBIZA and MAJORCA'S FINEST COVES.
This post is also available in: Deutsch Español Nederlands Français Italiano