CELEBRATE YELLOW DAY ON THE BEACHES OF MALLORCA, IBIZA OR LANZAROTE
Blue Monday may be the saddest day of the year, but we also have the happiest day: Yellow Day!
Why is 20th June considered to be the happiest day of the year?  
In statistical terms, 20th June is the happiest day of all. This is the conclusion reached following a study of the emotions experienced by thousands of people on that particular day. It is also no coincidence that 20th June is the day we say goodbye to spring and welcome summer with its pleasant temperatures.  
Yellow Day brings with it long hours of sunshine and holidays, a perfect combination for discovering the beaches of our three paradisiacal destinations:  Mallorca, Ibiza and Lanzarote. 
The beaches of Mallorca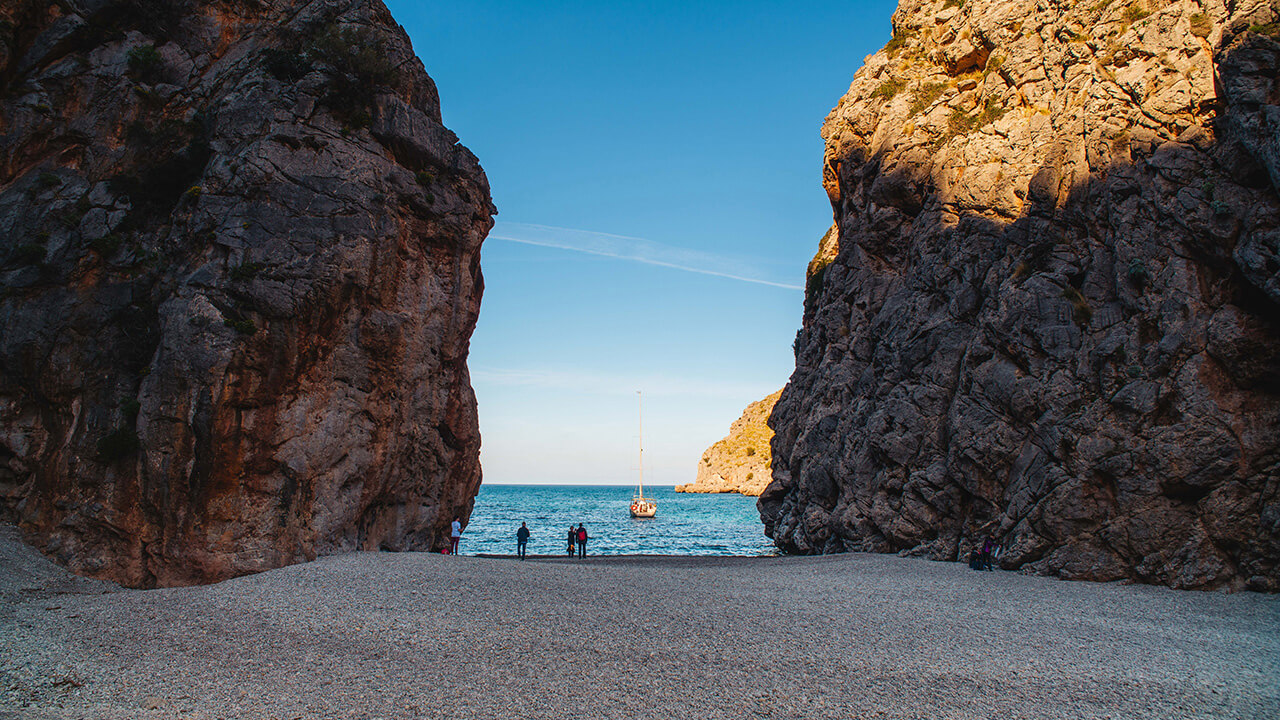 Cala de Sa Calobra, photo by abc-mallorca.es
Cala de Sa Calobra. You just can't help falling in love with this small cove nestling at the mouth of the Torrente de Pareis stream, surrounded on either side by steep cliffs rising up some 200 metres. Located in the Serra de Tramuntana mountain range, each summer this stunning setting draws thousands of visitors who go there by car and boat.  
Cala Varques. Quite simply breathtaking. Backed by sheer cliffs, despite its relatively small size, the turquoise waters make this beach a particular favourite. A walk along the clifftop brings you to Puente Natural, which as the name implies is a natural bridge formed from the rocks.  
Playa de Muro. The perfect choice for spending a few hours in paradise. This is Mallorca's largest expanse of sand. Ideal for all ages, a host of water sports can be enjoyed here, including pedaloes, kitesurfing, windsurfing or standup paddle boarding.  The THB Gran Playa and THB Gran Bahía  hotels, situated in the town of Can Picafort, are just a few steps away from this magnificent beach. 
Mallorca is a stunning destination, with paradisiacal sites at every turn. Discover our hotels (link: https://www.thbhotels.com/en/majorca) and explore the island and its beaches. 
The beaches of Ibiza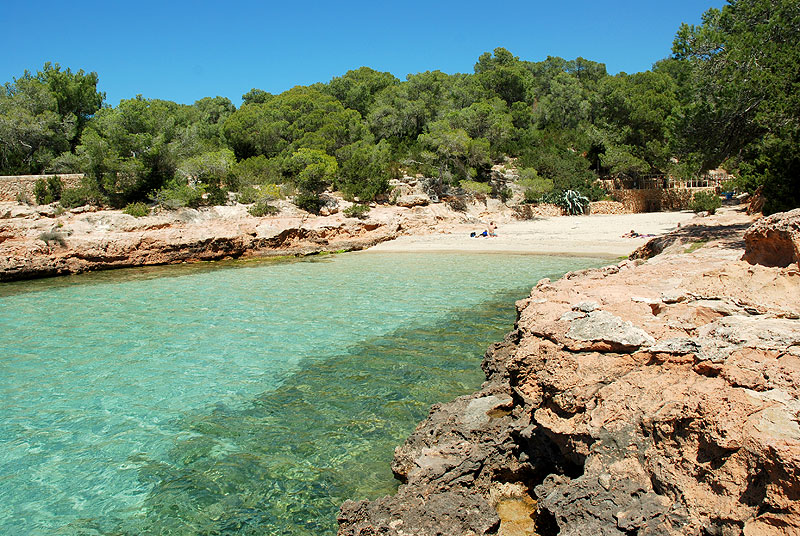 Cala Gracioneta, photo by ibiza5sentidos.es
Cala Vadella. One of Ibiza's finest beaches, popular with locals and visitors to the island. Situated just a few metres from the town of San José, this beach is backed by rocky faces that shelter beachgoers from the wind. This delightfully peaceful beach bathed by crystalline waters is loved by all.  
Stay at the THB Ocean Beach and THB Naeco Ibiza hotels and you will be within easy reach of this spectacular natural wonder. 
Cala Gracioneta. This small beach boasts fine white sand and crystalline turquoise water. Facing the islet of Sa Conillera, the narrow cove is flanked by rocky faces.  
Cala de San Vicente. Situated just a short distance from Santa Eulalia, Cala de San Vicente is a large beach bathed by calm blue waters. It is sheltered from the wind thanks to the pine-clad mountains and visitors consider it to be a delightful spot and the perfect choice for a day on the beach.  
The THB Los Molinos hotel is perfect for relaxing after a day on one of Ibiza's beaches.  
Ibiza also has a magnificent public transport service, with buses that will take you to practically all the island's beaches. 
The beaches of Lanzarote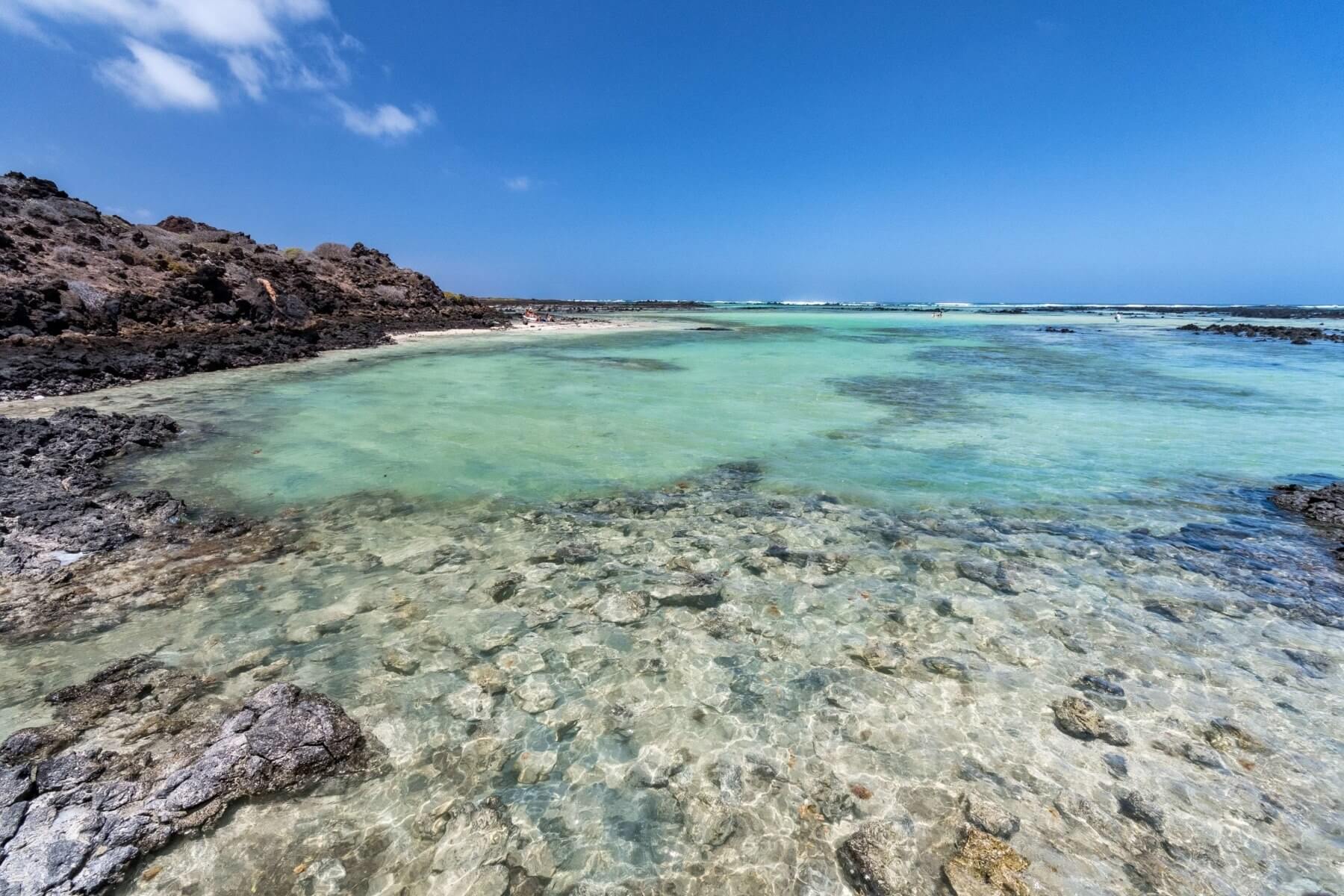 Playa Caletón Blanco, photo by turismolanzarote.com
Playa Francesa. This beautiful beach is located on La Graciosa island. It affords breathtaking views of Lanzarote's north coast and Famara cliffs. With almost 450 metres of white sand bathed by spectacular calm turquoise waters, you could be forgiven for thinking you are in the Caribbean.  
Playa Caletón Blanco. Stretching out some 500 metres, this beach is located in the municipality of Haría. A very special spot due to the sharp contrast between the black lava rocks and the fine white sand. This beach is also renowned for the natural pools that form at low tide.  
Playa de Las Conchas. Also located on the island of La Graciosa, this beach is really a succession of small coves, which are better suited to topping up your tan than swimming. The currents have a boomerang effect that only the boldest dare to take on.  
Plan your holidays and the beaches you'd like to visit from our hotels on Lanzarote.  
YOU MAY ALSO BE INTERESTED IN: THE TOP 6 EXCURSIONS ON LANZAROTE, IBIZA'S TOP 10 COVES, SUMMER EXCURSIONS: WALKS AND DIPS IN THE SEA 
This post is also available in: Deutsch Español Nederlands Français Italiano