LANZAROTE: AN UNBEATABLE BACKDROP FOR SPORTS LOVERS
Imagine a destination offering the chance for year-round fun and adventure. Lanzarote forms an ideal backdrop for a host of activities, so read on to find out more about the full range of sports this island offers visitors.
Lanzarote is renowned for its wealth of sporting activities, ranging from water, mountain and motor sports to countless land and air activities. The island's natural resources and superb climate allow for countless possibilities and activities that can be enjoyed all year round.
The island unquestionably boasts a magnificent setting for all kinds of sports:
Surfing: The quality, power and variety of its waves make Lanzarote one of Europe's best destinations for surfers of all abilities. Beginners can take advantage of countless sandy beaches bathed by perfect waves (Famara, Orzola and Arrieta) whilst experts can put their skills to the test at the truly great surf spots to be found on this compact island (La Santa and El Quemao).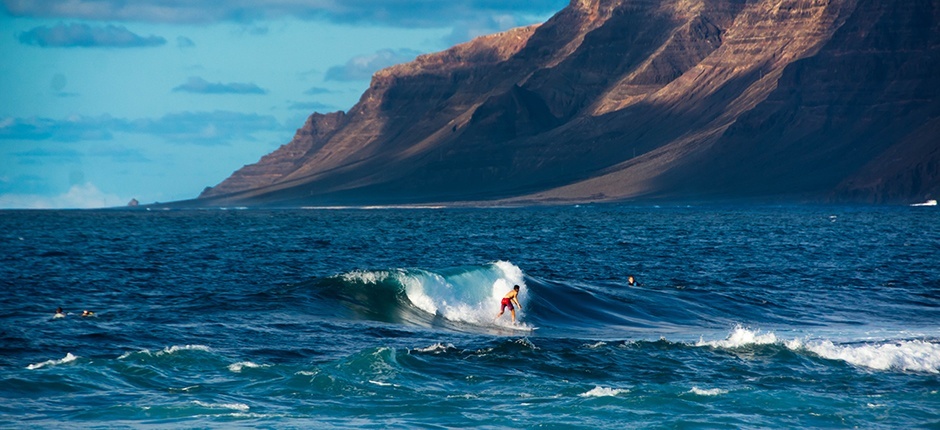 Photo by holaislascanarias.com
Scuba diving: Lanzarote is definitely one of the best destinations in Europe for scuba diving due to its stunning volcanic sea beds, marine life and incredibly pristine waters offering maximum visibility. Whether you are a newcomer to scuba diving or have been enjoying this thrilling sport for years, you won't be able to resist the chance to indulge in some scuba diving during your visit to the island.
In recent years Lanzarote has become an authentic Mecca for lovers of scuba diving thanks to the Atlantic Museum, an underwater exhibition of more than three hundred sculptures by artist Jason de Caires Taylor.
Kitesurfing: Lanzarote is considered one of the world's finest locations for kitesurfing thanks to its constant and steady north-eastern winds. September to March is considered to be the best time of year for this sport. Beaches such as Famara, El Risco, El Francés, Las Conchas and the island of La Graciosa are all exceptional kitesurfing locations.
Canoeing and kayaking: Discover all the beauty of Lanzarote from a different perspective whilst spending time in direct contact with nature. Lanzarote is a great place for kayaking due to the trade winds and a delightful average water temperature of 21 ºC. Breathtaking routes will reveal caves, cliffs, unspoilt beaches and islets. Explore truly amazing spots and admire unique marine life as you enjoy an excursion by kayak.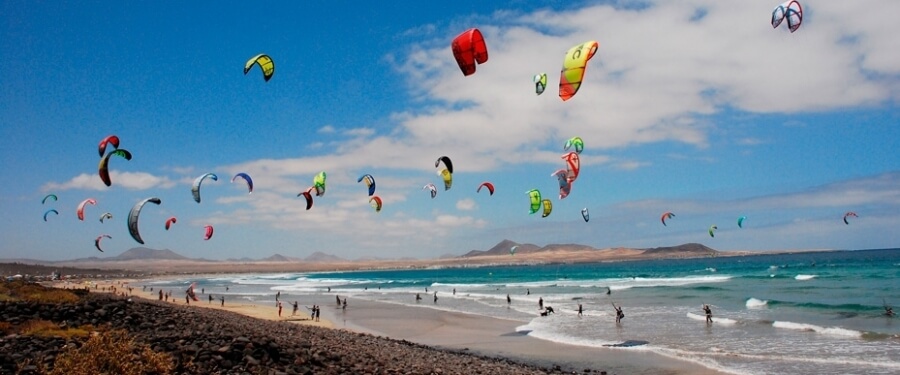 Photo by turismoteguise.com
Stand Up Paddle: This form of surfing, which uses a board moved by an oar, is particularly popular on Costa Teguise. Safe and simple to master, it is an ideal sport that can be shared by parents and children together.
Golf: Golf on Lanzarote means going from hole to hole whilst admiring the best possible backdrop: the sea. Very few locations around the world can match the conditions this Canary island offers: indeed, enjoying a round of golf at any time of year in temperatures of between 19 ºC and 25º C is a rare luxury.

Photo by allsquaregolf.com
Hiking: Lanzarote boasts a mix of sea and mountain landscapes, as well as a wide range of routes designed to showcase the stunning scenery in all its glory. Hiking, trekking or rambling are three of the most popular and highly recommended activities the island offers.
The entire island is crisscrossed by routes boasting outstanding diversity both in terms of their length and difficulty. You can choose between mountain and coastal paths, nature trails or walks around historic quarters. Explore on foot the protected natural spaces, including dunes and beaches as well as volcanic landscapes.
Cycling: Lanzarote is the ideal destination for this sport, with options guaranteed to delight cycling lovers, amateurs and professionals alike. The climate, routes and magnificent landscapes make for cycling trails that are nothing short of perfection. From delightful rides along the beach to the steepest and most challenging tracks, they offer an unbeatable combination of culture, nature and sport.
Cycling is so popular on the island that each year it hosts the Ironman Lanzarote event, an international triathlon competition that attracts numerous athletes from around the world.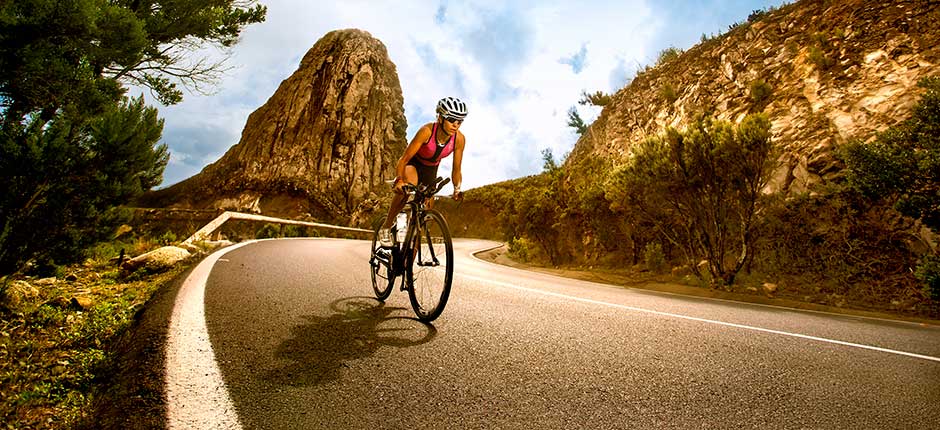 Photo by holaislascanarias.com
Don't leave it a minute longer! Enjoy a getaway to Lanzarote and try some of the many adventure sports available on the island.  Discover our 3 hotels on Lanzarote (THB Flora*** in  Puerto del Carmen, THB Royal*** and THB Tropical Island**** in Playa Blanca) and enjoy exclusive benefits when you book via the website.
These hotels are perfect for relaxing after a day of intense activity, recharging your batteries with the finest local and international gastronomy, and training if you need it. We provide a wide range of extensive sports facilities, guaranteeing everything you could wish for during your stay on Lanzarote".
If you liked it, also it can interest you: HIKING IN LANZAROTE